Here's a list of the Gear the I endorse. These are private builders and they do amazing work!
Check out their site and give them a call.
Tell them TROY Sent You!
---
If a private build is out of your price range or your looking for other gear I recommend.
Here's a list of great gear that you can find on Amazon.com by clicking any of the pictures below.
---
Here are some of my favorite CDs
---
I play a Hudson 6 String Pedal Steel Guitar made by Jimmie Hudson.

Click Here to visit his Website. Tell him Troy sent you!
http://hudsonsteelguitars.com/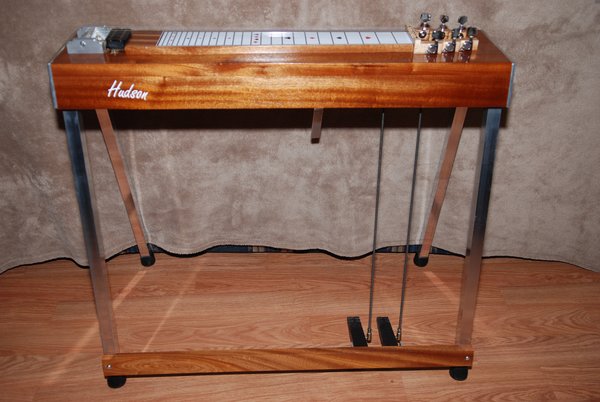 ---
I play an Asher "Haumana" model 8 String Lap Steel. Made by Bill Asher.
---
Here are links to some my favorite Dobro® Gear.
Here's my Demo/Review of the Charlie's Slide Pro Capo
---
Some Of My Studio Audio Equipment I Use
---
Click Here To Visit The Redline Website
(Check out the Redline "Econoline" if you're looking for a great affordable Reso!)
From Steve Smith at Redline Resophonics:
As a beginner or seasoned pro, you may be interested in the latest models of square-neck resophonic guitars from RedLine Resophonics, "The Econoline Rambler." These guitars are built very similar to our already popular "Rambler" series. We have simply simplified some of the more labor intensive operations, and we are passing the savings on to the player.

These Econoline Ramblers are available in two body sizes, those being the traditional R-Body size, and the larger size, which we call "The Peabody." All of our guitars offer plenty of volume, regardless of the size, but the Peabody offers that extra amount of horse-power you might need in some jamming or on-stage situations. Consider it an insurance policy!

Either way you go, you will be getting a great guitar. We feel that this series of guitar offers the best performance to price ratio available. You will be getting an American made guitar that is well built and sounds great!

Here are some specifications on these guitars....

Birch Laminate Top and Back
Solid Birch Sides and Neck
East Indian Rosewood Fretboard and Headstock Overlay
Wire Frets
25" Fret Scale
Satin Nitrocellulose Lacquer Finish
Fan Cover Plate
Screened Sound Rings
Bone Nut
Ebony over Aged Maple Bridge Insert
Cone and spider are imported, but very good quality
Gig Bag included

Prices:
R-Body Econoline Rambler . . . . . $995 (add $75 for Hard Shell Case)
Peabody Econoline Rambler . . . . $1250 (add $100 for Hard Shell Case)
---


Online Lesson Videos
- This is my other website that has other teachers and other instrument video lessons on it. Same great format! I have some really great teachers working with me.
There are lessons for all kinds of instruments!
Guitar, Bass, Fiddle, Violin, Banjo, Mandolin, and even Trumpet!!

The Gateway Ramblers - St. Louis Bluegrass Band - This is my Bluegrass Trio based out of St. Louis Missouri. Members are Will Miskall - Vocals/Bass, Ben Smith - Vocals/Guitar/Mandolin/Fiddle, Troy Brenningmeyer - Dobro/Vocals.

Meredith Resonator Guitars
- This is Tooter Meredith's website. He is one of the Best Resonator Guitar Luthiers in the World, and he is currently making me my "Dream Instrument". A Beautiful Mahogany Resonator Guitar with the Fishman Aura Bridge Pickup installed.
I can't wait to get it in my hands!!!

Band In A Box
- This is an amazing computer program. Make sure you get the "Real Tracks"! It allows you to make most any backing track, change the key, instrumentation, tempos, and a ton more.

The Amazing Slow Downer
- This is another amazing computer program that allows you to slow down and loop sections of music. CD, Mp3, etc -- Great stuff!

Custom Ink T-Shirts -
This is the website I used to print my cool looking Dobro® T-Shirts! This is really a great company/website!!
Check 'em out if you're looking for someplace to make T-Shirts or other merchandise for you!
---
Reso-Nation
- This is one of the BEST Dobro® Forums on the planet!!

ResoHangout
- Another GREAT Dobro® Forum!!

Resoguit.com
- Another GREAT Dobro® Resource!!

Brad's Page of Steel
- Brad's a super nice guy and has a really prolific site about all things "Steel"!

Rayco Resophonics
- They make some really amazing Dobros®!!

Lou Wamp
- Great Dobro Player from the Chatanooga, TN area

Ferrell Stowe
- One of the GREATS!!!

Martin Gross
- A wonderful German Dobro® Player!! He has a ton of really great Dobro® Videos on YouTube!!

Rob Anderlik
- A wonderful Chicago Dobro® Player!! Tons of great info on his site!!

Billy Cardine
- Fantastic Dobro® player with the Biscuit Burners! One of the GREATS!!

Rob Ickes
- One of the GREATS!!

Jerry Douglas
- One of the GREATS!!

Mike Auldridge
- One of the GREATS!!

Josh Graves
- One of the GREATS!! (His Wikipedia Page)

Bashfull Brother Oswald
- One of the GREATS!!

Gene Wooten
- One of the GREATS!!

Andy Hall
- Dobro® player with the Infamous String Dusters

Josh Swift
- One of the up-and-coming GREATS of the instrument!

Justin Moses
- An accomplished mulit-instrumentalist/session player.

Ivan Rosenberg
- With a unique style of tasteful melodies, relaxed bluegrass grooves, and coherent improvising on original songs, Ivan's music has appeared in over 150 TV shows and films.

Randy Kohrs
- Amazing Dobro® Player and Grammy Winning Producer

Sally Van Meter
- One of the GREATS!!

Tut Taylor
- One of the GREATS!!

Greg Booth
- An Alaskan Dobro® Player that plays a lot in EGBGBD Tuning, and comes up with some really nice arrangements with great chords!!

Wolfgang Reimer
- Another Great Dobro® Player from Germany!

Curtis Burch
- Awesome Grammy Award Winning Dobro® Player!!

Colin Henry
- Awesome Dobro® Player from Ireland!

Orville Johnson
- GREAT Dobro® Player and Instructor!!

Cindy Cashdollar
- GREAT Dobro® and Slide Player. She has some really nice DVDs out too!!

Freddy Holm
- Really fantastic Dobro® Player from Norway!!